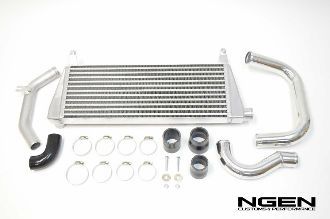 NGEN Front Mount Intercooler Kit for the Fiat 500 Abarth/500T is BACK IN STOCK! Get it while supplies last! $549.95 SHIPPED!
To purchase, click here:
https://ngencustomsandperformance.com/s ... abarth500t
The NGEN FRONT MOUNT INTERCOOLER KIT (FMIC) for the ABARTH and FIAT 500T features aluminum piping with 4 ply silicone couplers. The aluminum piping runs one line from the turbo to the intercooler and one line from the intercooler to the charge pipe, greatly reducing possible leak points that plague the factory system. The Intercooler core is a larger, front-mounted core (compared to the stock units) utilizing a bar & plate design, which greatly reduces intake temperatures. The intercooler core easily mounts to the factory crash bar/bumper support with supplied hardware (no drilling required). All factory components remain intact behind the bumper (i.e. fog lights) for a clean, factory look.
FEATURES and BENEFITS:
Bar and Plate Intercooler Core
Greatly reduces potential boost leaks and/or vacuum issues
Increased cooling capacity over factory system
No drilling required with only basic tools needed for installation
Faster turbo response
More performance from your Abarth/500T
Great value!
Full color step by step instructions (print and PDF file included)
CHANGES/ADDITIONS FROM PREVIOUS VERSION INCLUDE:
Stronger/Cleaner Welds on the Intercooler Core
Additional Hot Side Replacement Pipe (Version 1 reused the OEM hot side pipe which could leak on higher horsepower engines)